I. The Grimoire of Wackos Greater and Lesser
"All living things are gnarly, in that they inevitably do things that are much more complex than one might have expected."



~Rudy Rucker

The American Psychiatric Association has gathered psychopathy and sociopathy beneath the diagnostic umbrella of
Antisocial Personality Disorder (ASPD)
. Its
Diagnostic and Statistical Manual of Mental Disorders
(DSM-IV-TR) puts the incidence of ASPD at 3% in males and 1% in females. So, given that
76% of the U.S. population is over 18
--the diagnostic criteria specifies an age of 18--and given that the population is almost evenly split between male and female, doing the math tells us that, in the strictly diagnosable sense, there are over 3.5 million male and nearly 1.2 million female sociopaths and psychopaths running about the country.
1
Conversely, the APA has split "neurosis" into component parts, and it's
no longer used in psychiatric diagnosis
. Instead, we've now got a constellation of specific things that used to be neuroses which are now their very own little behavior descriptors, things like obsessive-compulsive disorder, borderline personality disorder, anxiety, and pyromania. That diagnostic reorganization hasn't been wholly embraced, with some holding on to neurosis as an umbrella term that
encompasses
:
...persistent experiences of negative affect including anxiety, sadness or depression, anger, irritability, mental confusion, low sense of self-worth, etc., behavioral symptoms such as phobic avoidance, vigilance, impulsive and compulsive acts, lethargy, etc., cognitive problems such as unpleasant or disturbing thoughts, repetition of thoughts and obsession, habitual fantasizing, negativity and cynicism, etc. Interpersonally, neurosis involves dependency, aggressiveness, perfectionism, schizoid isolation, socio-culturally inappropriate behaviors, etc.2

As far as the prevalence of what used to be called neurosis: 17 million depressed, 3.3 million with OCD, 5.2 million with PTSD...the
list goes on
.
3
I'm not going to give you the odds of meeting a psychopath or a sociopath, because I've done enough math for this thing already. But you definitely know at least one neurotic. To a certain extent, anyway. Otherwise you wouldn't be here.
Which brings me in a neat little swinging arc to my final point for this section: chances are, a not insignificant portion of this great pile of Greater and Lesser Wackos is on the Internet. If you didn't click on that link in the first paragraph, you won't know that according to the various committees at the APA, Anti-Social Personality Disorder is diagnosed like so:
A) There is a pervasive pattern of disregard for and violation of the rights of others occurring since age 15 years, as indicated by three or more of the following:



failure to conform to social norms with respect to lawful behaviors as indicated by repeatedly performing acts that are grounds for arrest;
deception, as indicated by repeatedly lying, use of aliases, or conning others for personal profit or pleasure;
impulsiveness or failure to plan ahead;
irritability and aggressiveness, as indicated by repeated physical fights or assaults;
reckless disregard for safety of self or others;
consistent irresponsibility, as indicated by repeated failure to sustain consistent work behavior or honor financial obligations;
lack of remorse, as indicated by being indifferent to or rationalizing having hurt, mistreated, or stolen from another;

B) The individual is at least 18 years old.
C) There is evidence of conduct disorder with onset before age 15 years.
D) The occurrence of antisocial behavior is not exclusively during the course of schizophrenia or a manic episode.
Now then. Think about the sort of things that
Rebecca Watson
seems to
routinely find in her Inbox
. Think about the unimaginatively-named phenomenon of "
cyber-bullying
," which has apparently resulted in more than one teen suicide and based upon which, most likely, is at least one optioned screenplay unofficially known as "Heathers 3." Or think about trolling, minor though it is in comparison, which can best be defined as "Taking a position or making statements in an online forum or comment thread for the express purpose of seeing whether you can really fuck with someone."
The Internet has increased the accessibility of human prey to those humans who are, for whatever reason, inclined towards psychologically predatory behavior in one way or another. Some of these ways are small. Others are quite a bit larger and more worrisome.
Just to speed things along, I'd like to remind you of
John Gabriel's Greater Internet Fuckwad Theory of 2004
: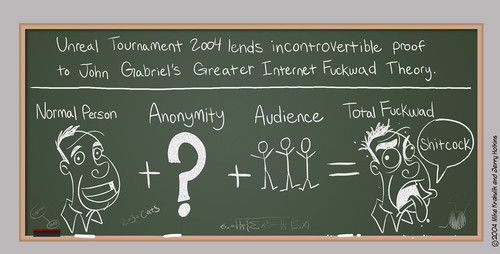 Only, in this instance, it's not a video game. It's the whole Internet. And instead of starting with a "Normal Person," you start with a sociopath or a psychopath.
And maybe there are people who would never do such things in person, could never manage to pull off the sadistic lack of empathy required to tell someone that perhaps they need to be raped. Or that they should just die. But on the internet, behind a cloak of anonymity, they can just let that little demon out to play, can create a whole online identity that's cruel, deceptive, aggressive, irresponsible, and lacking in empathy or remorse. That is: the technology of communication and personal information exchange may have enabled the expression of behaviors that, prior to such ubiquitous connectivity, would have remained largely concealed behind the rules and facades of face-to-face interaction.
Then there are the formerly-known-as-neurotics. For them, creating an online persona can be a minefield of exposure, anxiety, flashes of panic, and general weirdness, especially if they encounter one of the aforementioned disturbed individuals.
The Internet is a vast social experiment. It's a new way of facilitating human interaction, and, as Rudy Rucker said, we--as living beings--can get pretty gnarly. The new way of interacting has resulted in the rapid evolution of various subcultures, and these subcultures are now rippling out into meatspace, some of them in rather
public
ways
. This entire process begins with the creation of individual online personas.
In
Part II
, I'm going to tell you about fictional persons and a 16th-century Czechoslovakian rabbi. Doesn't that sound fun?
---
1
Of course, this math may be correct in the way that "1) All dogs are blue 2) Fitz is a dog, therefore 3) Fitz is blue" is correct. That is, it's logically consistent, but factually wrong. I have no idea. I'm just piecing this crap together from stuff I find on the Internet, like everyone else. Also, some of these people might be in jail. But, rhetorically, this should be enough to pique some interest, if not a bit of alarm. It's Scary Math, which is why I did it.


2
Basically, all the conditions necessary to become a writer.
3
Not all of them are writers.