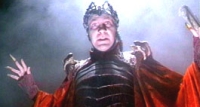 Festering spleens, I can't stay here ten solar days. I have a book to write!
Calm down, you can relax, please. You're on your blog. It's safe here, you're among friends


Good lord, I hope so. I see Evil. And he's got that funky...skull-carousel thing going on. I hate that shit. I mean: you hang out with a guy in Manchester for years, he's your mate, right? And one day he's Henry VI! Then...then there's drinking, and you lose a decade or two, and then
bang-pow!
He's Evil! And not just any Evil.
The
Evil.
Do you...know what year it is?
Of course I do, I'm not a fucking idiot. It's 2012.
And do you know where you are?

I'm on my blog. What is all this bullshit? Who the fuck are you?
I'm here to help you.
Like hell you are. Bring me a sandwich, that'll help me.

We'll get you lunch soon. Can you tell me, do you remember where you were before you came here?
Of course. I was in Ross Dress For Less, looking for one of those velvet-looking sport coats that turn up there, and...hey, hey, what's that?
What's what? Please, sit down.

What's that on your fucking
head
, that's what!
Be calm, please. My head is just like your head, it's the same.
Like hell it is! My head doesn't have a biomechanical...whatever the
fuck
that is sprouting out of it!
Please, sit back down. Please be calm. You're becoming very agitated.
I'm becoming agitated because you're a goddamn freakish...wait, you're him! You're Evil! You're going to end up a cinder in the microwave and blow up my parents and then Sean Connery's going to wink at me
and leave
even though I'm an orphan because they only had him for a two days' shooting!
Actually, I'm Terry Gilliam. I am surrounded by people who don't listen to me. I told them I needed him for longer, but...accountants, you know.
Don't blame it in the accountants, you bastard, that ending made no sense and scarred me for life!
Say...is that Black Tar Brand™ heroin?
Why, yes...yes it is. Would you like some?
Yes. Yes I would. Very much. Here, let's use my works.
And that, my friends, is how I ended up doing heroin with Terry Gilliam.